Harper's BAZAAR|Ye Hongxing's recreation on the New Year Issue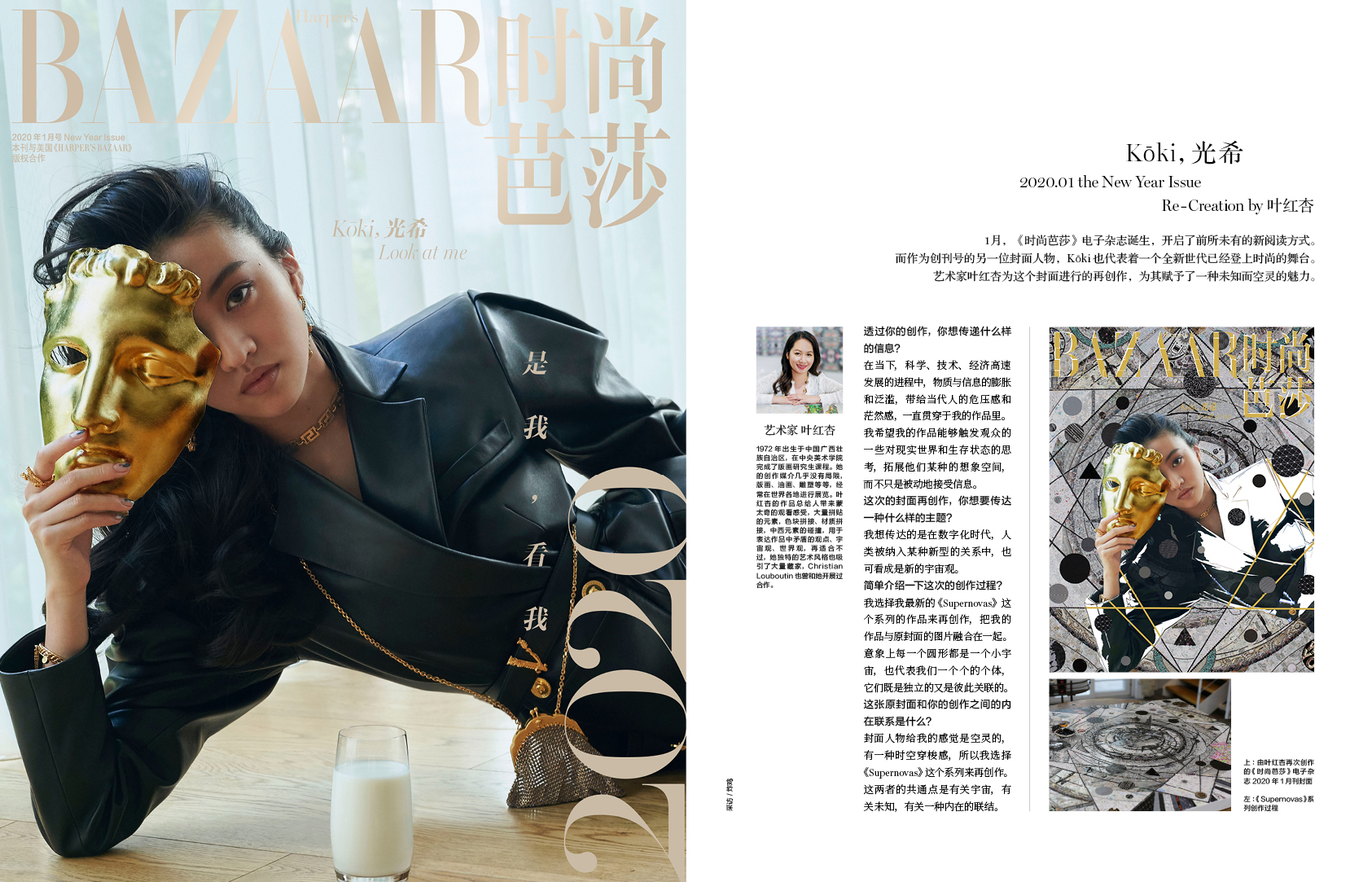 Harper's BAZAAR (时尚芭莎) Magazine's 2020.01
The New Year Issue. Re-Creation by Ye Hongxing
Artist Ye Hongxing was invited by Harper's BAZAAR to recreate one of the covers in 2020 along with 11 other Chinese artists. She chose to work with one of the artworks from her brand new Supernovas Series that explores the nature of people's relationships in the context of information and communication technology.
艺术家叶红杏受《时尚芭莎》的邀请,与其他11位中国艺术家一起,为《时尚芭莎》2020年1月新年刊的封面进行再创作。叶红杏选择她全新的《Supernovas》系列与原封面的图片融合在一起,此系列是艺术家对信息时代和通信技术背景下人与人之间关系的本质的探索。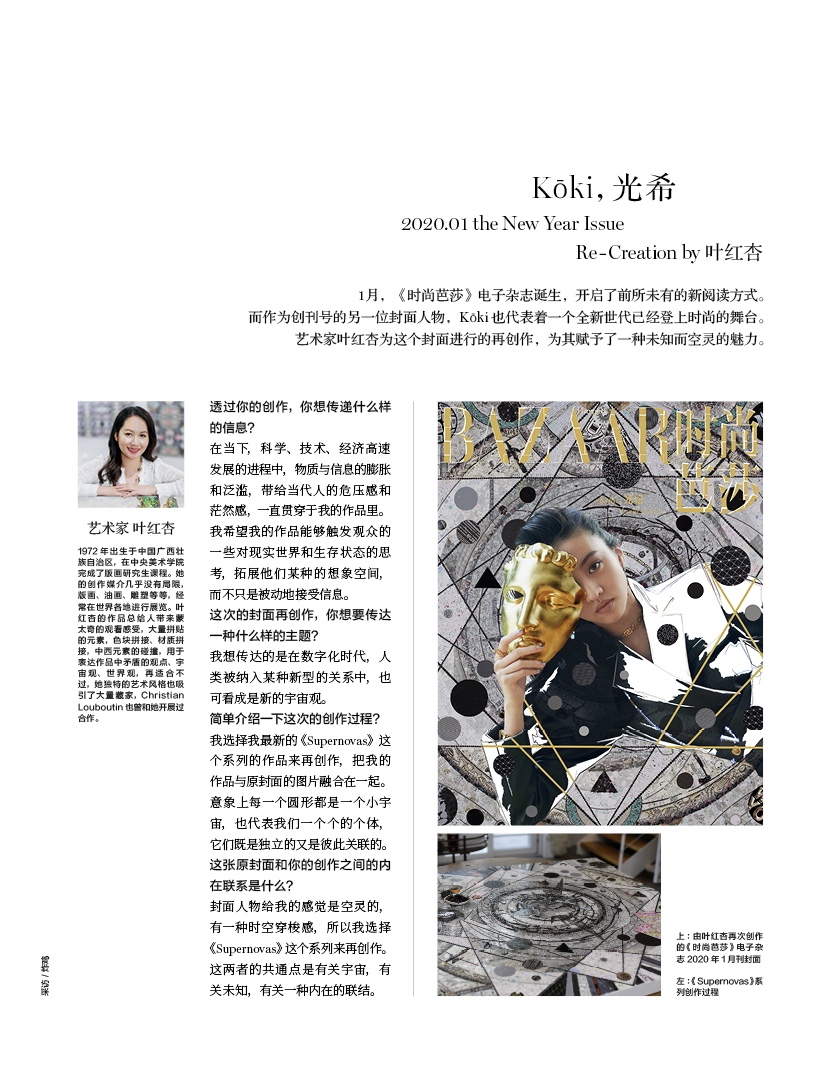 The new Supernovas Series is a continuation of Nebula Series, introducing Ye Hongxing's view on the cosmology of human's relationship— each circle on the canvas is a small universe, just like individuals in this contemporary digitalized era, parallel and independent.
叶红杏最新的《超新星》系列是她《星云》系列的延续,介绍了艺术家在数字化时代的人类关系宇宙观:画布上的每一个圆形都是一个小宇宙,也代表着人类个体,在当代信息时代下,平行且独立。
"Supernovas Series is about the cosmos and the unknown," commented the artist Ye Hongxing.
"《超新星》系列是关于宇宙和未知的," 艺术家叶红杏说道。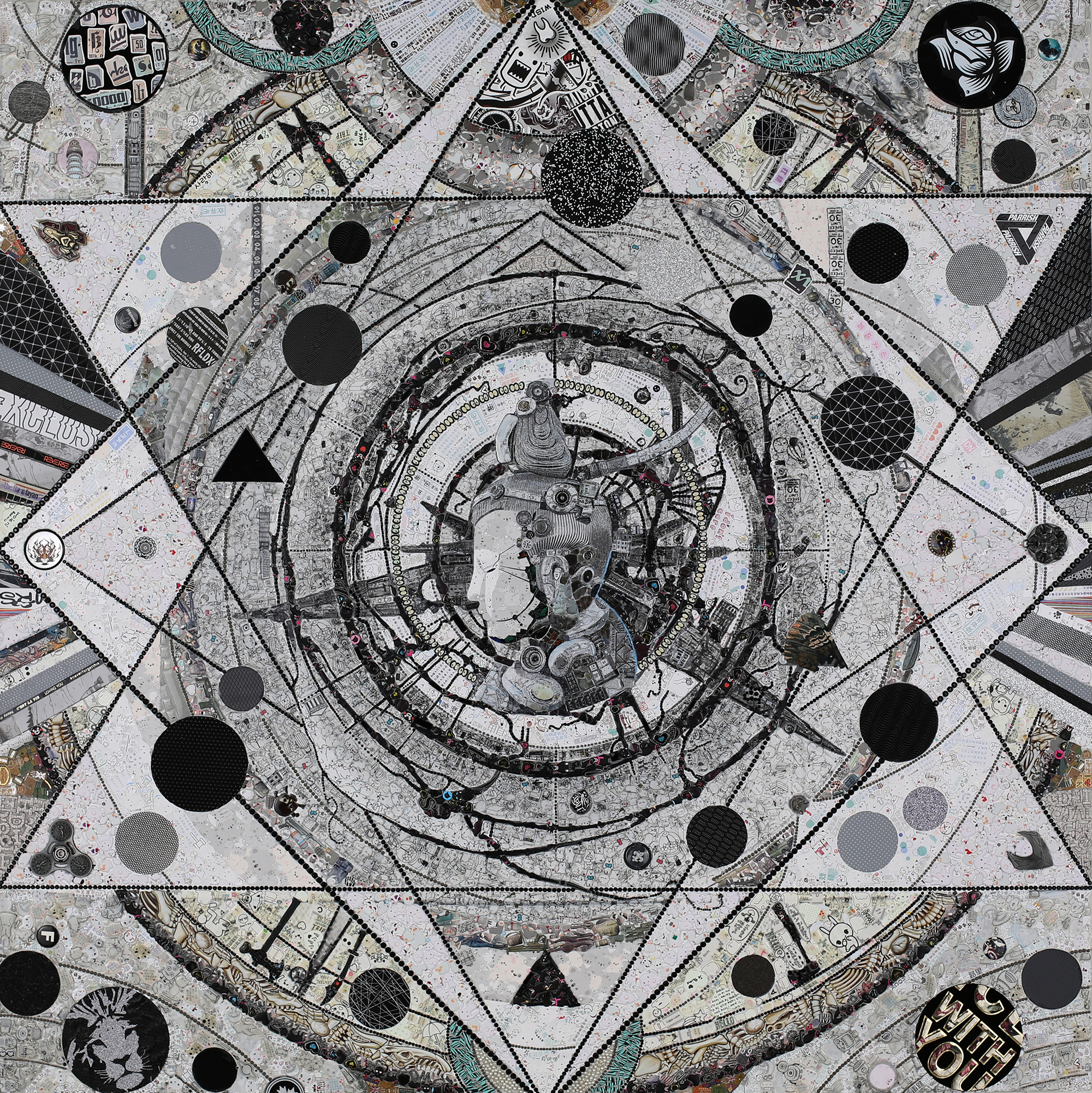 Supernovas 超新星 NO.3, 120x120cm
Stay tuned for more new artworks from
Ye Hongxing's Supernovas Series.
敬请期待叶红杏《超新星》系列的最新作品。
Courtesy of the artist and Harper's BAZAAR
图片和文字信息由《时尚芭莎》和艺术家提供
---
About the Artist Ye Hongxing
Born in 1972, in Guangxi province, China, Ye Hongxing attended the Art Department at the Guilin Normal University for her BFA. Later she moved to Beijing where she graduated in 1998, completing her Master's degree in Painting Department of the Central Academy of Fine Art. At the end of her MA, Ye Hongxing returned to Guangxi province where she was invited as an artist-in-residence to live and work in the Yuzile Sculpture Park in Guilin. One of the recent artist residency programs she has completed includes a month-long program at Lux Art Institute in San Diego, USA. Ye Hongxing has been working with and is represented by Art+ Shanghai Gallery since 2010.
1972年出生于中国广西自治区,叶红杏在广西桂林教育学院美术系本科毕业后进入中央美术学院版画系进修,于1998年获得硕士学位。毕业后,叶红杏受邀回到广西,在桂林愚自雕塑公园开始艺术家驻留项目。近年,她参与多次驻留项目,包括在美国圣地亚哥卢士艺术学院时长一个月的艺术家项目。自2010至今,叶红杏一直是艺术+ 上海画廊的代理艺术家。
Ye Hongxing's unique aesthetic has earned her popular acclaim worldwide. She has collaborated with designer Christian Louboutin, and is widely collected by high-profile figures within China. Ye Hongxing has exhibited at galleries and museums throughout China, Europe, and the United States, and has been shown internationally at fairs including Paris Art Fair, London Art Fair, Art Central (Hong Kong), Art Stage Singapore, India Art Fair (New Delhi), Art Basel (Miami), SH Contemporary Art Fair (Shanghai), Art Beijing Contemporary Art Fair (Beijing), Art Taipei, Art Cologne, Scope (Basel, New York), PULSE (New York), Art Asia (Miami), where her installation was labeled one of the fair's highlights.
叶红杏独特的艺术风格为她赢得了世界性的广泛关注。法国时尚设计师克里斯提·鲁布托及其同名品牌曾与她展开合作,她的作品被中国社会各界知名人士收藏。红杏在世界各地,包括中国、欧洲以及美国的画廊和美术馆举办过展览,并参与亮相国际性的艺术盛会包括巴黎艺术博览会、伦敦艺术博览会、香港中心艺术博览会、艺术登陆新加坡,印度当代艺博会(新德里),巴塞尔迈阿密艺博会,上海当代艺博会,北京当代艺博会,台北国际艺术博览会,科隆艺博会,"SCOPE纽约"艺博会,"PULSE"艺博会(纽约)以及亚洲艺术展(迈阿密)。


HOME